Ok folks I thought I'd finally start sharing some of my gear.
I have spent alot of time perfecting these systems, and have a TON of bags, pads and more.
The systems below are my current favorites
Let me preface this with I'm a fairly hot sleeper, so my cold weather bag is truly for winter use, and I'm also fairly bulky width wise, and a stomach sleeper so I need WIDE bags.
The below are a cummulation of TONS of research, tons of purchases and tons of field testing.
Keep in mind these are NOT in compression sacks, simply stuff sacks. The bags can be made quite a bit smaller If needed. Pictured With Nalgene bottles for size comparison
Warm weather bag is
Big Agnes Lost Dog Sleeping Bag: 50 Degree Synthetic
It's on the left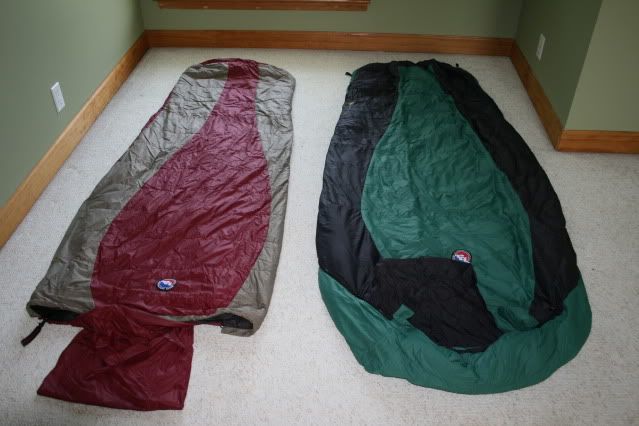 If you are not familiar with big agnes bags they have integrated sleeves for your pad so you don't seperate from your pad in the middle of the night which is always a problem for me.
My Fave Spec: bag weight > 1 lb. 4 oz.
SPECS:
designed to be used with a 20" wide rectangular pad
integrated pad sleeve > never roll off your pad again!
lightweight, 70" ykk #5 zipper > match left & right zippers to mate bags
only mates with another lost dog or nugget sleeping bag
rectangular shape offers more room in foot box & shoulders
cotton storage sack & nylon stuff sack included
built in pillow pocket holds a fleece or big agnes pillow
shell fabric > wrm breathable, water resistant & wind proof nylon microfiber rip-stop
interior lining > wrm breathable, water resistant & wind proof nylon microfiber rip-stop
interior fabric loops for sleeping bag liners
the most comfortable sleeping system available
every big agnes bag requires a pad to provide the insulation on the bottom
Specifications >
fits > up to 5' 10"
pad length > 20" x 72"
color > wine/gray/black
fill type > PrimaLoft ECO (50% recycled)
fill weight > 5 oz
bag weight > 1 lb. 4 oz.
shoulder girth > 70"
hip girth > 66"
stuff sack size > 6" x 15"
compressed bag size > 6" x 4"
My COLD weather bag is on the right
It's is the
Big Agnes Summit Park 15 Degree Bag
This bag is quite possibly my Fav bag of all time. It is comfortable, VERY roomy, and warm! It has a big integrated sleep pad pocket on the bottom
FAV Features:
Shoulder Girth 80.5"
And Warmth
SPECS:
Integrated full pad sleeve. Never roll off your pad again
Nylon stuff sack & cotton storage sack included
Built in pillow pocket holds a fleece or Big Agnes pillow
Interior fabric loops for sleeping bag liners
Rectangular shape offers more room in foot box and shoulders
25" width offers extra girth
70" YKK #8 zipper. Mate together our left and right zip bags with same size zipper
No-draft collar seals around neck to keep cold air from sneaking in
No-draft wedge insulates the connection between the bag and pad
No-draft zipper tube insulates along the length of the zipper
Shell: Down proof, nylon micro-fiber rip-stop. WR surface treatment to repel water
Lining: Soft, breathable down proof nylon with stain resistant finish
Pad sleeve: Nylon rip-stop. WR surface treatment to repel water
Flow™ Construction: Insotect Flow™ is a flow-optimized insulation system that delivers uniform heat distribution and natural body contouring through its revolutionary baffle design. Flow Construction eliminates lateral and vertical down shifting by using vertical chambers with Flow Gates to regulate fill positioning and density. Strategically placed Flow Gates minimize vertical down shifting while vertical chambers minimize lateral shifting. With continuous vertical Flow chambers in place of traditional side seams, Flow bags eliminate potential cold spots which can occur with side seams. Vertical baffles now flow with your body for more rapid and uniform body heat distribution.
LEFT OR RIGHT ZIPPER? When you are in the bag, on your back, the right zip will be on your right side, left zip on your left side
long/up to 6'6"
Pad Size 25"x78"
Color lake/gray
Fill Type 600 fill goose down
Fill Weight 1lb 8oz
Bag Weight 3lb 11oz
Shoulder Girth 80.5"
Hip Girth 74.5"
Foot Girth 66"
Stuff Sack Size L-9"x20"
Compressed
Bag Size 9x10"
My PAD: I have tested many many pads and combinations of bag/pad
My Year round multi purpose Pad is the: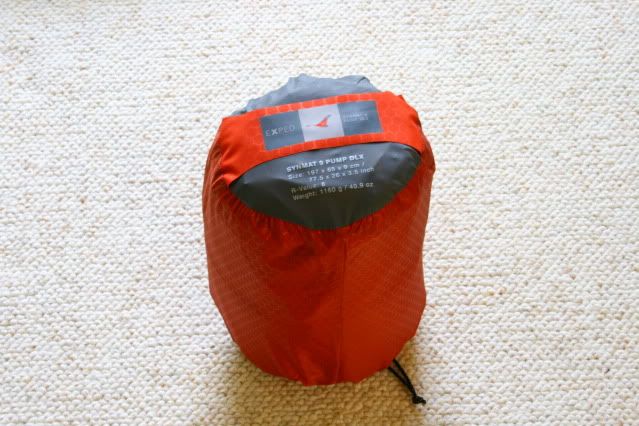 EXPED SYNMAT 9 PUMP DLX
FAV Features:
Pad thickness (in.) 3.5 inches
Built In Pump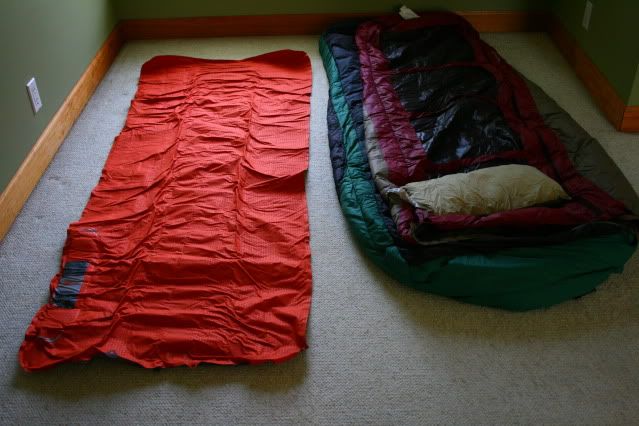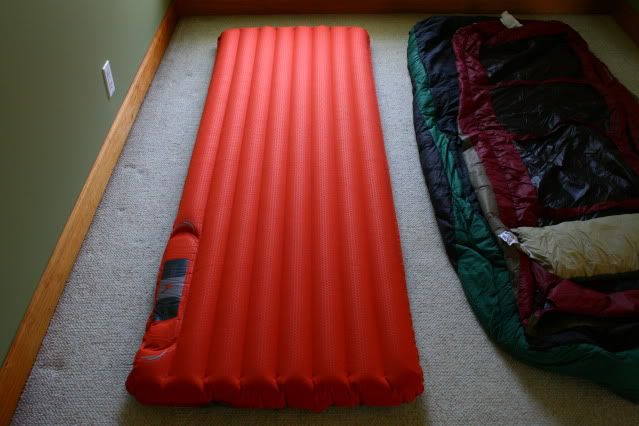 With a new, lightweight design and built-in pump, this comfy Exped sleeping pad adds length, width and thickness for improved refuge from the cold, hard ground.
Lofted microfiber insulation is laminated to the top and bottom, providing efficient 4-season warmth
Baffled chambers evenly distribute insulation, eliminating cold spots
Ingenious, integrated pump inflates mat quickly and easily
Polyester fabric is UV- and abrasion-resistant; nonslip finish helps keep you on the pad
Welded seams create airtight construction
Dual valves provide maximum airflow for rapid deflation
Includes stuff sack for protection during transportation
SPECS:
Exped SynMat 9 Deluxe Air Pad with Pump Specs Specification Description
Average pad weight (oz.) 42 ounces
R-Value 6
Pad length (in.) 77.5 inches
Pad width (in.) 26 inches
Pad thickness (in.) 3.5 inches
Packed size 7 x 11 inches
Dimensions - metric 196 x 66 x 9 centimeters
Average weight - metric 1.18 kilograms
Insulation type Synthetic
Sleeping pad type Air pad
Sleeping pad shape Rectangular
Repair kit included Yes
Here it is nested in the Big Agnes Summit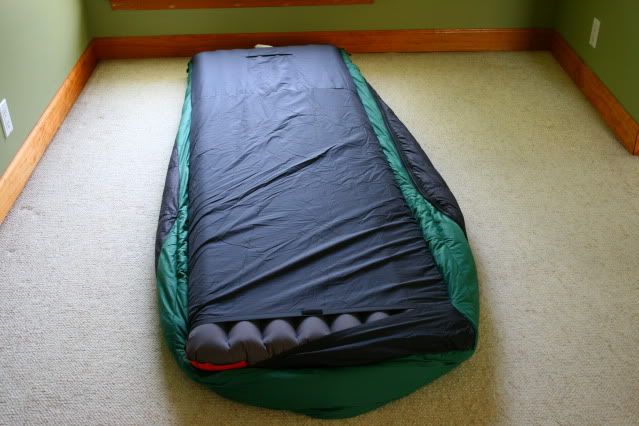 The above combo is by far the best nights sleep I have ever had in the outdoors period.
Some other Stuff
Kifaru G2 Woobie - Bring this along for cold climates, sitting around the campfire, add to sleeping bag warmth in sub zero scenarios, good all purpose item
These high tech poncho liners are designed to replace the USGI poncho liner. The Kifaru Woobie & Doobie are MUCH warmer than a standard poncho liner. Our Climashield insulation is continuous filament - so strong that no quilting is needed. Plus, it has a better "feel" and draping capabilities - no quilting, so there are no cold spots. Coupled with our water resistant RhinoSkin Shell, you get immediate warmth and protection.
Same great stuff we use in our sleeping bags.
Best yet, the Woobie & Doobie are very compressible due to the state of the art materials used.
Our Woobie uses 2 oz. / square yard of insulation and the Doobie (Double Woobie) uses 4oz. square yard of insulation. Not just a poncho liner, you can also use them as a sleeping bag liner or ground cloth (for two) as well.
Colors: OD on one side, foliage green on the other
Woobie G2 Weight: 1 lb., 4 oz. (vs. 1lb 12.8oz for a new issue standard poncho liner).
Dimensions: 64 X 93 inches*
Doobie Weight: 2 lbs., 2 oz.
Dimensions: 64 X 93 inches*
*dimensions may vary slightly due to pliability of fabric and filler
Construction
Shell: our proprietary RhinoSkin™ - the lightest/toughest material available with an excellent DWR finish to help shed rotten weather, and the reversible two tone color scheme provides more blending latitude.
Insulation: we use ONLY the new Climashield Combat insulation. Continuous filaments provide superior strength, moisture resistance, durability, thermal efficiency and excellent packing efficiency as compared to down or cut staple insulation.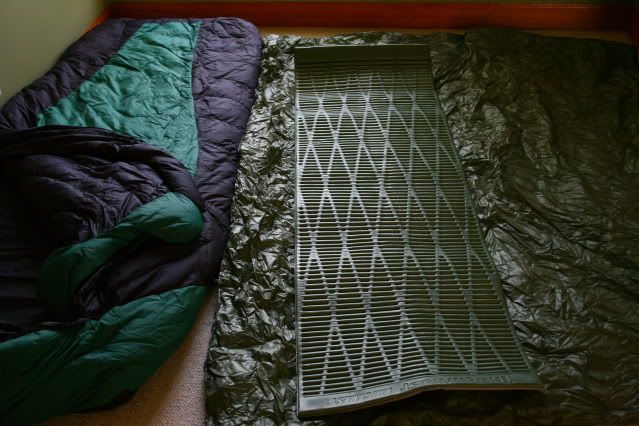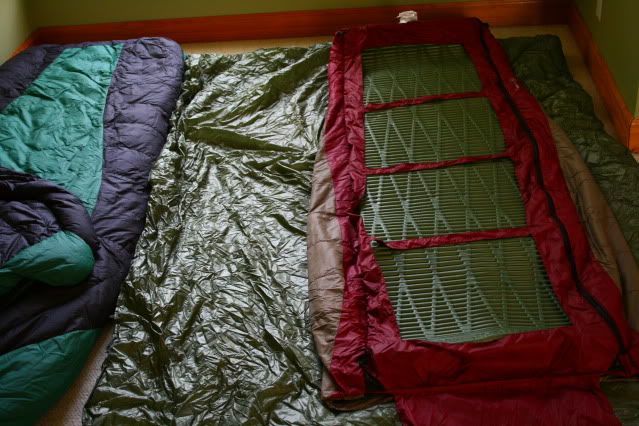 Also pictured is the tried and true Ridgerest
Also pictured is a Snugpak Softie 3 Merlin
Softie 3 Merlin
Description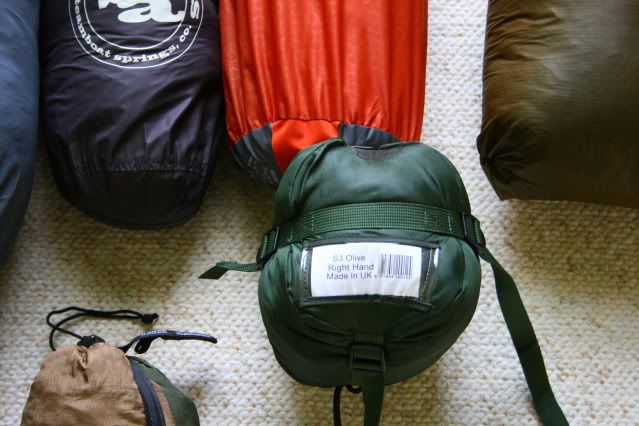 A tried and tested favourite, this British made sleeping bag combines micro pack size with serious performance.
International best seller and brand leader, this lightest and smallest of the Softie® sleeping bag range utilises space age technology in the form of a highly breathable metallised barrier (Relectatherm) to give a temperaturerating that exceeds expectations. Used in climates as diverse as the Australian outback to the foothills of the Himalayas. Comes with reinforced foot as standard.
Features:
Snugfit Hood
The quilted top of the bag is tailored, pleated, and fitted with a drawcord so it pulls into shape, rather like a jacket hood.
Anti-snag Zip
To prevent the 2-way zip from snagging either the zip baffle or the bag edges, an "anti-snag strip" of webbing is sewn in behind the zip. (All zipped bags.)
Liner Fastening and Hanging Tabs
Inner tabs are provided to keep a loose liner in position, corresponding in position with the tabs we provide on our liners. External tabs allow you to easily hang the bag for airing and drying.
Circle Foot
Tapering the bag to a circle foot creates the "mummy" shape which is easy to warm and minimises the weight of material used.
Zip Baffle
Hard to see in the picture, but a zip baffle runs the full length of the bag, behind the zip,to prevent heat escaping through the zip area.
Re-inforced Foot
Sleep with your boots on!
Zip Together
Buy a left and a right hand to make a double (please check when ordering)
Made in the UK
This product is uk made start to finish at our factory in West Yorkshire, England.
Compression Stuff Sack
Comes complete with a compression stuff sack, to make the bag smaller when not in use.
Wider bag (extra)
Can be used with the Snugpak Exanda Panel to make a wider sleeping bag for more comfrot.
Extra Length
This sleeping bag can be make extra long, please ask for more details.
Construction
Single profiled sleeping bag with one layer of softie insulation.
Sleeping Bag Type
Mummy shaped
Zip Type
Full length side zip, in either left or right hand.
Technical Information
Zip Style:
Full Length Two Way Zip
(Left Hand and Right Hand version available)
Shape:
Mummy
Temp Rating:
Comfort: 5°c
Temp Rating:
Extreme: 0°c
Weight: 900g (inc. compression stuff sack)
Packsize
(Fully Compressed): 16x16cm ('How to' Guide)
Packsize (Uncompressed)
Length: 220cm
Width (Chest): 150cm
Width (Foot):
My one true little luxury here is pictured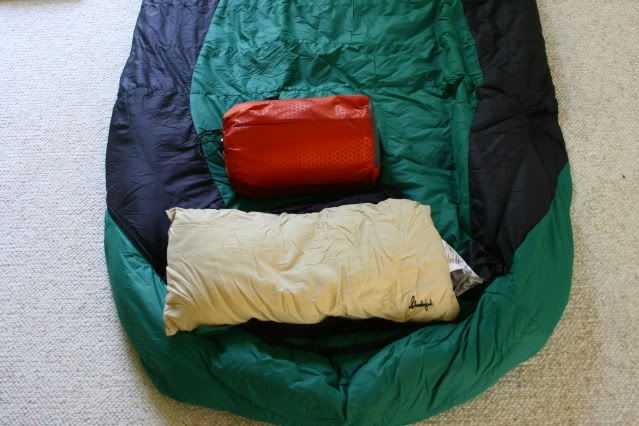 It's the Slumberjack Camp pillow
Specifications
Shell Fabric Poly-Cotton
Liner Fabric Cotton Flannel
Slumberloft HP™
Compressible and comfortable
Matching stuff sack included
Carry Size 10" x 20"
Carry Weight 10 oz
This is just the tip of the iceburg but probably a good start and will hopefully help you guys out a bit