Started this thread in GPC so we can discuss our experiences with new, updated, or experimental gear....
Last night, me and 3 buds over-nighted in negative degree weather at a buddy's BoL...with the weather, it seemed like a perfect opportunity to test out a new sleeping bag I'd recently acquired...obviously, I brought along my usual bedding kit, just in case.... so here's my opinion:
Gear: Alps Mountaineering "Crescent Lake 20" Mummy Sleeping bag...
Purchased: eBay...
Price: $20 + $5 s/h...
Rating: Excellent...
This bag lives up to its rating (20 degrees), and then some...on a night with 7F ambient temp and a wind chill of -17F, I was cozy as I could be with 1 layer of long underwear and a fleece liner, and sleeping on a 1/2" mat, inside a debris hut...next to the friggin' door (short straw).....I've never had any sub-$150 bag that could make the same claim...
Construction is superb...right down to the included stuff sack and
embroidered
logos, etc...and at 6' 1", the fit was snug, but not claustrophobic....I wouldn't recommend this bag for anyone longer, or wider (about 220Lbs)...
This bag will replace my North Face sleeping system ($230), and at around 2Lbs, it'll also cut a bit of weight...not to mention, it's about a 90% price difference...and packs smaller, to-boot...
On a scale of 1 to 10, I give this bag a 9.5 across the board for quality, cost, weight, and comfort....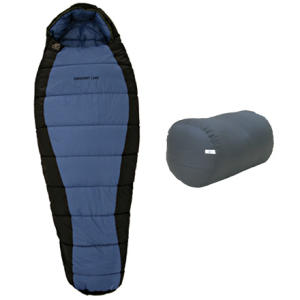 Gitchu Some!!!