The following is a break down of my GHB. I got off work a little early yesterday and decided to pull the bag out of my truck, rotate a few items, and grab a few photos.
This bag was primarily designd as a "light" three day bag, and should be more than enough to get me from my office in downtown Greensboro, NC, to the safety of my home which is approx 10 miles out. The contents are seasonal, and with the arrival of spring, I have removed some of the cold weather gear that I was carrying. (watch cap, gloves, thermals, light blanket)
It's also pertinent to know that this bag would be augmented by the tools and items in my EDC.
The first pic shows the GHB with related items that reside in my vehicle. Depending on the situation, all items might go with me, or none of them.. I would rather have it and leave it than need it, and not have it.
Left to right:
FAK (I'll save the contents of this bag for another thread)
Boots (I work in an office environment. My work shoes and clothes would not be appropriate for extended hikes)
Springfield 1911a1 with three mags
ETool (in back)
GHB (Surplus molle pack with 1 external small pouch, 1 water bottle pouch, and knife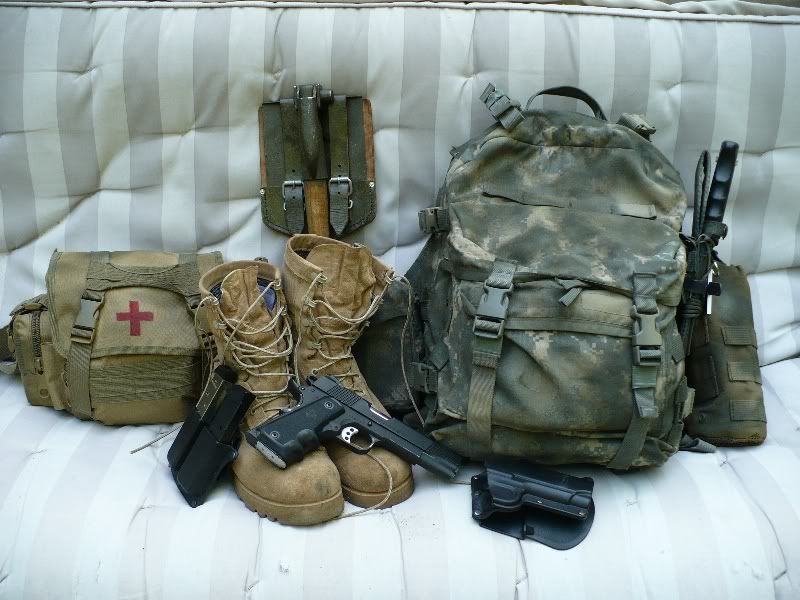 The contents from left to right:
Toilet Paper
Rain Poncho
2 SS water bottles
2 large trash bags
2 hand warmers
1 lighter
2 sterno candles wrapped in foil
1 canvas two pocket pouch (fire pouch)
1 NC map
1 compass
1 can of Sterno
1 Katadyn Hiker water filter
1 knife
Boonie
Light weight tent fly
shemagh
spare clothes
SS cup
Food pouch (Blue/gray)
1 25 round box of Remmington Golden Sabre's .45acp (Not pictured)
The "Fire Pouch" contents:
Esbit stove with fuel tabs
OtterBox with lighter, fresnel lens, matches (orange container), and bag of lint.
Three packs of Trioxane.
1 larger bag of dryer lint still in pouch, not pictured.
I chose this particular food pouch because it is insulated (though I'm not sure how that might help, but something told me it might come in handy), plus it can also be used to carry water... Oh yeah... It was cheap too.:cool:
The contents:
2 potted meat
2 granola bars
2 powerbars
1 5 hour energy
2 salmon pouches
3 Spam Singles
1 Surplus GI Mess kit that holds various drink powders, instant coffee, honey packets, mustards and sauces, as well as a cheesey utensil set, napkins, and more TP.
Spare clothes: Pants, T-Shirt,
Zippered pouch contents:
2 pairs wool socks
2 pair of skivvies (not pictured because I'm shy) :rolleyes:
deodorant
toothbrush
toothpaste
footpowder
The Long sleeve camo XXL is for wearing, or could be sacrificed for material or used for covering gear.
That's about it. The pack weighs 21lbs without water. Since a large portion of the contents are clothes that I plan to change into, space will open up for my EDC contents. The med bag can be carried over the shoulder or molle'd to the GHB. It weighs under 2lbs.