EOD bag configured as a "Cook Kit". Inside are the Nova+, Pots, Fuel and just add hot water foods.
When I first turned on the Optimus Nova + backpacking stove from preheat to fuel throttle, it reminded me a small jet engine with the afterburners on!
I have had some pretty extravagent meals when I have gone camping before. Most of my meals have been cooked over dual burner Coleman type, white gas and propane stoves. I have even cooked foods over the campfire and in dutch ovens. However, these stoves are big an bulky when one hikes into wild backpacking style!
So when I got into backpack camping I needed something strong,small,powerful and RELIABLE! This was also going to get double use as a GHB and work/travel stove.
I read a lot of reviews and most of them were very favorable to the Optimus stoves. I am a big fan of MSR stuff, but I liked the heavy duty pot supports of the Optimus Nova and I also liked the Nova's all metal parts...
Some of the folks issues with the Nova is that it is constructed of brass which weighs more, but makes a more durable and lasting stove In my opinion.
The Nova+ will burn just about any petroluem liquid. Gas can be used, but do you really want all those additives winding up in your chow??? During an emergency though all bets are off. I burn the highly filtered Premium Coleman fuel that comes in a quart plastic bottle and that, so far is the only fuel I have tried.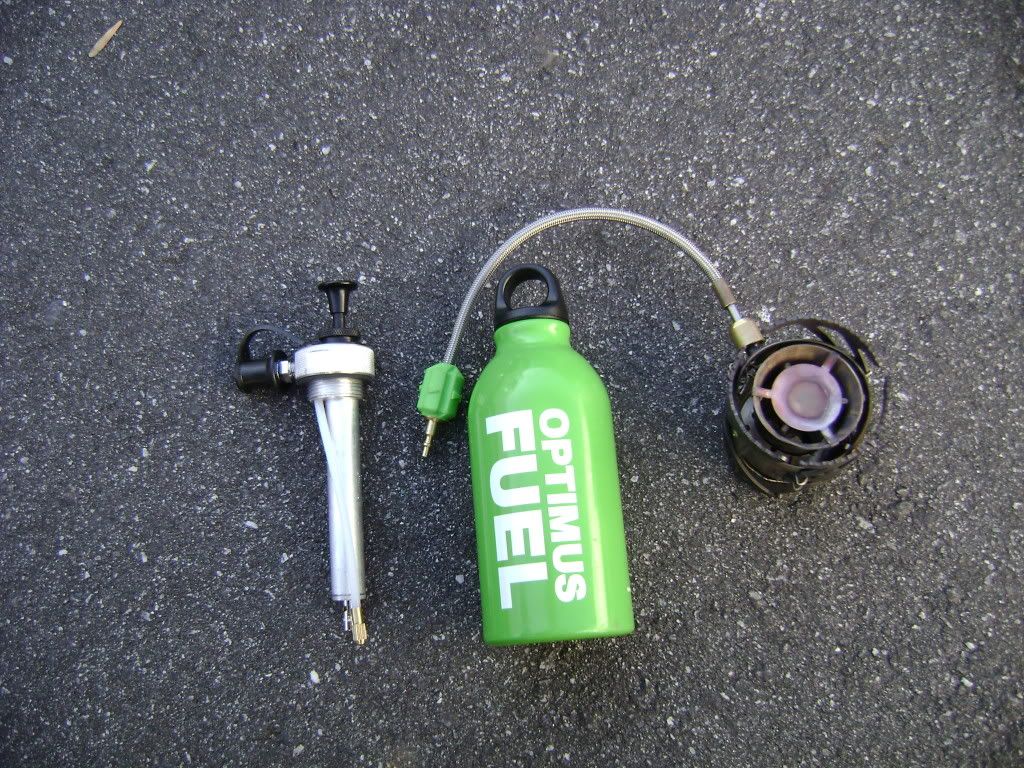 When you purchase the Optimus Nova + it comes in a nice zippered ditty bag. In it you will find a small repair kit (O rings,fuel filter and grease for the washers inside the pump), the Nova + and the pump. All you need is to purchase a fuel bottle (250 ml used in this test) and your fuel. Fuel bottles range in size from the small one (quarter liter) to the large (one liter) size.
The small one is good for your GHB/BOB and lasts over 2 hours of good hot cooking. I like the large liter size for week long camping trip.
To use the Nova + you will need all the items I mentioned above. Assembly is very easy. Remove the plug from the fuel bottle, insert the pump, screw it in hand tight, pressurize the bottle with about 25-40 strokes, open the pot holder legs, straighten the fuel hose, insert fuel hose into fuel pump quick connect, open fuel hose to release a small amount of fuel then shut off, light the fuel to preheat the burner, when the flame dies down turn back up the flame and it should burn a blue flame.
The Nova + works as advertised and the capability of cleaning the fuel jet nozzle during use with the included tool makes it very easy to maintain. I really like how the fuel valve control is located AWAY from the hot burner. When you get done cooking you simply flip the fuel bottle over and it purges the air and the fuel from the fuel line and prevents fuel spills. Then you disconnect the fuel bottle quick connect, install the dust cover on the quick connect, wait for the Nova+ to cool down, pack it up and be on your way!
When the weather turns cold, I sometimes take along the Nova+ in a EOD bag along with a small bottle of fuel, a cooking pot and some dehydrated soup (cup of soup) hot cocoa, instant and ground coffee. When I bring the ground coffee I also tote my French Press coffee mug to make some awesome coffee in the sticks. When I carry my "cook kit" it is not really for emergercies, it is for having hot liquids. When you work outside all day long, it is nice to have a warm cup of something.
Today I took these pictures while boiling some water for hot chocolate today. It took about 6 minutes after the burner was preheated to boil 16 ounces of water. When backpacking or using the stove with the cook kit, I tend to stick with dehydrated foods and instant beverages to limit cleanup. IOW I just boil water and stick with food products that only require adding hot water (Mountain House, Cup of Soup, Instant Coffee, etc.) since all I want is something hot. I don't want to spend the time to clean those noodles stuck to the bottom of the pot!!!
So far the Nova+ is one of the fastest burners I have used to boil water! I like when I get a hankering to eat, I can get something fixed to chow on in under 15 minutes. Fast food indeed!
The Nova+ is also a part of my GHB/BOB and Stranded Bag. A stove can be useful to melt snow for use as drinking water and of course cooking food, heating water, and warming MRE packets in hot water. So there are many uses for a stove so small in your BOB and you can find many uses for it in wilderness camping, making hot chocolate while the kids are playing in the snow right on site, and anywhere else you need a stove!
(BTW had to change my BLOG layout to accomodate the high quality pics as in the old format they were cut off :mad: )