Honey...
It is one of the easiest sweetners to store, tastes great and has antibacterial properties.
Bees make honey, pollinate your garden to provide a larger bounty, and give us wax and other beneficial compounds that are great for those into the S&P mindset...
A few years back, our local county extension agent offered a "BEE SCHOOL". The idea was to get young people interested in becoming beekeepers. My wife and I jumped at the oppourtunity and as a fluke, applied to get free bees, and bee hives via a NC State Univeresity Grant. We got lucky and received 2 complete hives of bees. We had to purchase a smoker, bee suit and hive tools, but those were cheap.
The first year we got about 40lbs of honey, last year we got 80lbs and this year 40lbs. We keep it all for our stores and are looking @ getting another hive this spring. One of the hidden benefits is that vine producing crops such as cucumbers, zucchini, squash and tomatos EXPLODE with bountiful produce. Fruit trees produce more fruit, my apple do wonderful and the blueberries are a-plenty!!!
Anyways I though I'd share some of my pictures of beekeeping which I consider a 'homestead skill'.
Enjoy :)
2 3lb packages of Italian Honey Bees, ready to go to their new home...
Getting the queen cage out of the hive and getting ready to dump the bee's into the hive!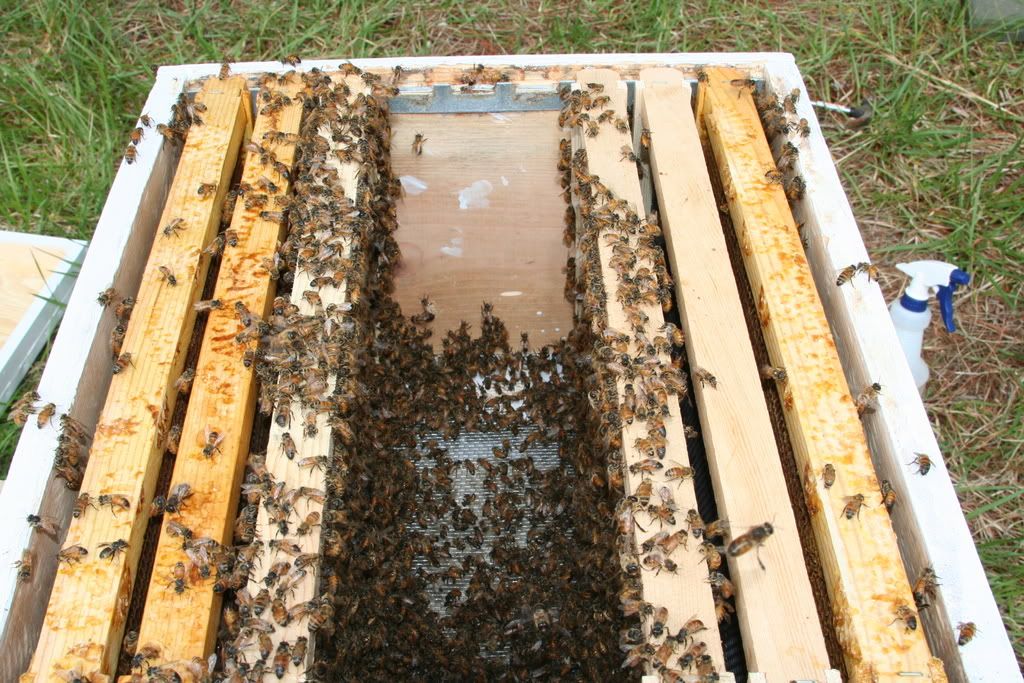 What bees look like when they first get into the hive. These are sprayed down with sugar water syrup so they don't fly easily until they clean it off of their bodies... They like sweet things so they are VERY happy right now...
Smoking the bee's helps to confuse them from buzzing around you and 'calms' them.
The bee hive with bee's installed inside and the 'package' left in front to let the others that hung onto the screen find their way into their new home. The hive was purchased but I made the crude but very strong tables for them to be elevated.
My first two hives... Soon they will go out and forage, find nectar, pollen, and water sources. These insects are awesome!!!
BTW my honey is ORGANIC and I use no manufactured pesticides. Only use natural techniques to keep my bee's healthy :) Unlike that Chineese crap that is full of pesticides...
If you can't do beekeeping yourself, be sure to buy LOCALLY as it is the best honey out there. My hives get a lot of their nectar from blackberry and blueberry bushes so I think it tastes UNIQUE!
Hope you enjoyed. Thanks for looking :)