I am pretty good at gardening. Since I have only been in this place for 7 months, this is my first attempt at desert gardening. Although not manditory, I opted to call 811 and have them come by and mark any underground gas lines. All of West Texas is covered with them, and many are not marked. I like fire and all, but not when it involves a high pressure gas line, a rototiller and me drinking Guiness beer. So, I cannot till until they come by and mark things off. However, I did cut a deal with a local scrounger for a bunch of used cinder blocks at $1.00 each. I have 40, but will go get another 20 tomorrow. I also have a guy that sells me eggs and he said I could have all the chicken poo I could haul at no charge.
Here is the area I will till up.
I got the bricks unloaded. It took me an hour or so of chipping the old chink off the bricks.
I then built a compost pit that should assist in keeping the wind from blowing all my rotted stuff off. Tomorrow I will get some quickcrete and fill up the hollow bricks, and smoothe over the seams. I will probably put some non-tox paint on the bricks. Some are blue and look like crap. The big cardboard box has 40 lbs of shreaded paper from my work shredder.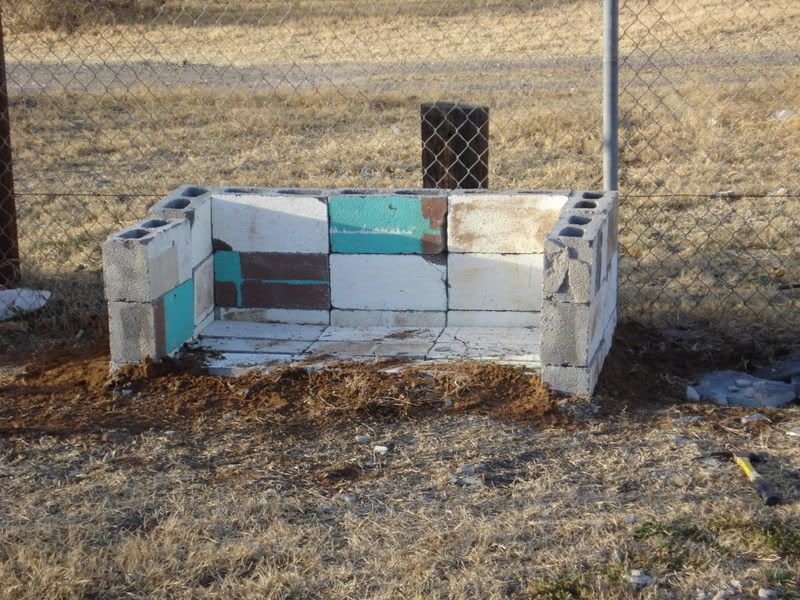 I laid out the remaining bricks so that the folks from 811 know where to check for gas lines.