I love semi autos and my favorite caliber is the venerable .45 ACP.
Sure I like the capacity of the wonder nines and if it shoots a projectile, I like it.
Revolvers are nice but I have not owned many. So after getting really anal about chasing my brass from the autos, I looked into the S&W 25,625,325 series of revolver. I wanted something light weight so the 325 PD fit the bill. Thunder Ranch has partenered with S&W to make the Nightwatch but I just don't like snub nosed revolver. I consider the 4" barrelled revolver the minimum for a good utility gun. My local dealer ask his supplier and they said they had one in stock and I had them ship it out.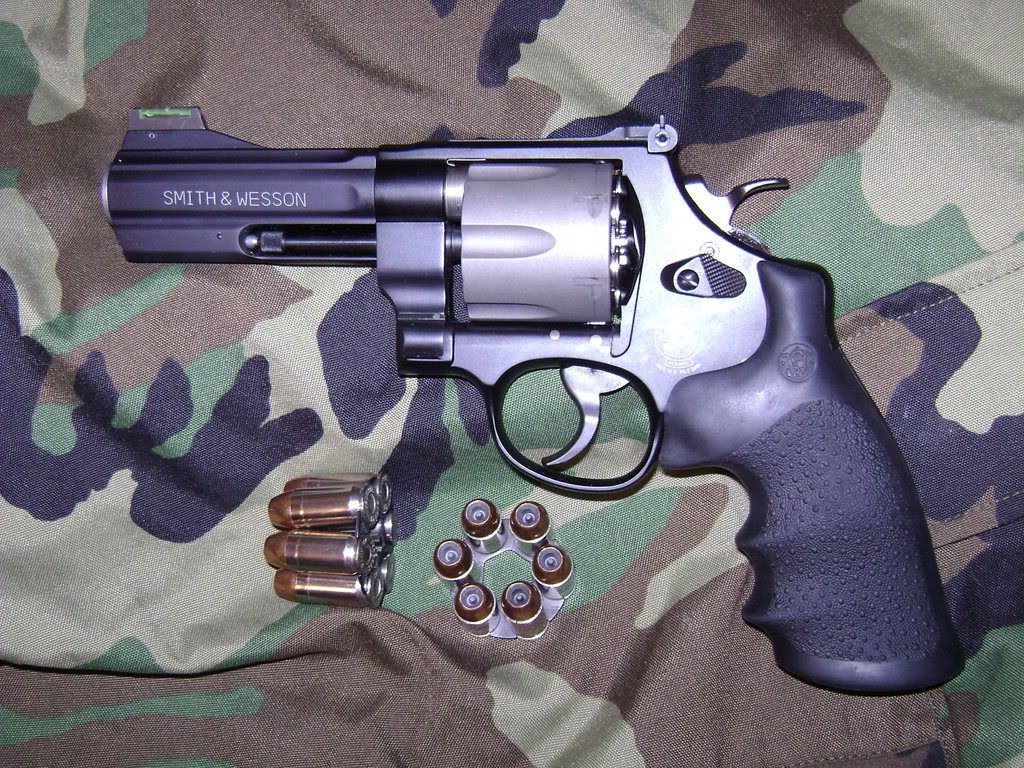 It has some nice wood grips as well as the the rubber grips it now wears. I'd plan on adding some Crimson Trace laser grips (I prefer Lasermax for semi-autos) in the future.
Since the .45 ACP does not have a rim, it requires the use of a moon clip to be able to extract spent cases. Think a speed loader that you just drop in six fresh catridges! I think you can also use the .45 auto rim catridge but to me it is a mute point as I am sticking to the .45 ACP.
If you are gonna use it you better lay in a good supply of moon clips and they are cheap enough to stack deep ;)
The cylinder is made from titanium and the frame is made from S&W Scandium metal, only the internals and a metal insert in the barrel are made from steel! Very light weight buts recoil is not severe. I wouldn't want to shoot the .357 or .44 mag version a lot :eek: Weighs roughly the same loaded as a Glock 36 and is just as handy.
The sights are of the high-viz front size variety and are very easy to pick up. As all S&W revolvers it is nicely done and is accurate.
Just need some leather for it, might place an order with Kramer to get one of their excellent horse hide leather holsters. Good stuff!
So now when the mighty .45 roars on the ZA homestead, the ZA doesn't roar because he lost his BRASS:mad: It happens when you shoot and move in a fescue field!
Thanks for reading :)