This is a religious based article. For that I apologize. But the information is important. Please do not read if you are offended by religious stuff. I cleaned it up a bit so as to not offend the non-religious folks here.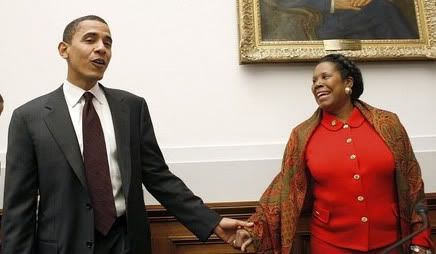 HATE BILL INTRODUCED INTO CONGRESS!
By Rev. Ted Pike
9 Jan 09

The federal hate crimes bill was reintroduced Wednesday by Rep. Sheila Jackson-Lee. It is now titled The David Ray Hate Crimes Prevention Act of 2009, H.R. 256, and is a condensed version of the longer Local Law Enforcement Hate Crimes Prevention Act, H.R. 1592 (which failed to gain final approval from Congress last year). Jackson-Lee also submitted a new companion bill, The David Ray Richardson Hate Crimes Prevention Act of 2009, H.R. 262. This bill will permit federal involvement in states to "prevent" hate crimes and assist hate crimes victims.
Both bills will authorize unprecedented intervention in states' rights. H.R. 256 is the most dangerous. It will transform America into a national hate crimes bureaucracy and end free speech, as has happened in Canada.
Hope Emerges!
In an extended conversation, Jackson-Lee's hate bill expert explained these bills to me. To my amazement, he said the Christian/conservative complaint that hate laws end free speech is so widespread in Congress that he fears the federal hate bill might not pass! Anticipating that contingency, he said, the milder H.R. 262 was created to empower the federal government to enter state hate law jurisdiction in a less threatening way--now described as "education" and assistance of victims.
Of course, even this softer hate bill could support expanded legislation and legal precedents to ultimately fulfill the original hate bill's objectives. For this reason, it also must be defeated!
Yet this staffer's candid remarks indicate that Congress has been hearing our protest about the reality of hate law abuse around the world. This renews our hope to defeat all hate bills once and for all. Of course, we wouldn't relax near a wounded rattlesnake until its head was cut off; so we must protest the federal hate bill until it never rears its ugly head again.
Window of Opportunity
Congress is presently preoccupied with the economic stimulus package. But Jackson-Lee's staffer told me that hate bill supporters hope to move it rapidly through the House and Senate Judiciaries as soon as early February. He said House Judiciary hearings will be held. If the bill is allowed to progress to passage by the House and Senate, as it did last year, probably nothing will keep it from being signed into law by President-elect Obama, a staunch hate bill supporter.
How can lovers of free speech hold back the hate bill monster? We must repeat the strategy that killed the hate bill in the last Congress and helped defeat at least five other pieces of anti-Christian, anti-liberty legislation. [1]
Here's how that legislative miracle happened.
This time two years ago, Democrat and Republican hate bill forces dominated Congress as they do today; defeat of the hate bill seemed impossible. Incredibly, until mid-February, there was virtually no public recognition by the American religious right that the hate bill was even in Congress!
It was entirely up to our National Prayer Network to organize opposition. We urged protest through many e-alerts and interviews on alternative talk radio. I urged our relatively small audience to protest to those most influential in hate bill passage or rejection: the 40 members of the House Judiciary Committee. Thousands called, bombarding committee members for at least three weeks. In response, usually lethargic Republicans sprang into action. They creatively offered no fewer than 11 amendments to the hate bill in committee. (In the previous Congress, virtually the same House Republicans, unmotivated by constituent concern, sat mutely while the hate bill passed the House in only 45 minutes!)
That winter, during and after the hate bill hearings, feisty Republican opposition was the talk of Washington as embarrassed, defensive Democrats could only hunker down under compelling objections. In fact, our phone calls of protest, which remained steady through the first weeks of February, radiated out through the House, stimulating almost all Republicans to fight!
Awakening the Religious Right
In mid-February, five weeks after the hate bill was introduced, I was finally able to awaken an oblivious Christian/conservative right. My Feb.14 article, Who's Warning about the Hate Bill? was sent to Bob Unruh, writer for WorldNetDaily. In only eight hours he wrote a WND article that galvanized the new right into explosive action, generating millions of calls opposing the hate bill. This reverberated to the White House; a usually indifferent Pres. Bush recognized the groundswell of support and vowed to veto the hate bill if it passed Congress.
Early and vehement opposition thus stimulated an eventual 180 House Republicans to slow down the Democratic agenda. Though the hate bill passed the House, Democrats (largely cowed by threat of presidential veto of the hate bill and ENDA) dawdled and lost focus for the first year. By the second year of the 110th Congress, the presidential race had begun and Democrats were eager to project "family values." Virtually all steam was lost for a militantly liberal, pro-homosexual legislative agenda -- one they thought could easily pass a year earlier.
The initial decisive protest by thousands of our audience in January-February 2007 thus played a primary role in delaying hate bill passage. Grassroots activists stood in the gap for freedom and held the lines until massive reinforcements arrived from the religious right.
The record of the 110th Congress is unambiguous: Democrats failed to pass any major federal bias, hate crime, or Christian-persecuting legislation.
We Can Do It Again!
To save free speech, we must replicate this strategy. We must prepare to again call all 40 members of the House Judiciary Committee. In the next several weeks, some 20 new members will be added to the committee and their names will be posted at
www.truthtellers.org
.
Meanwhile, call NOW your members of Congress toll-free at 1-877-651-6437 or toll 1-202-225-3121. Also call as many other members of Congress and especially members of the Senate (names posted at
www.truthtellers.org
) and protest the hate bill. Call each with the familiar message now resounding through Congress: "Please do not vote for any hate crimes legislation. Hate laws have taken away free speech in Canada and many European countries!"
It is doubtful if we can win in the House. But there is a good chance, if massive protest continues, that members of the Senate might defect and vote against the hate bill. As a result of such protest two years ago, no fewer than four Democrats in the Senate and 11 Democrats in the House bucked their party and voted against the hate bill. If four or more Democrats are again persuaded to vote against the hate bill, we may still narrowly defeat it.
Also remember that, above all human strategy, xxxxxxxxxxxxxxxxxxxxxxxxxxxxxxxxxxxxxxxxxxxxx xxxxxxxxxxxxxxxxxxxxxxxxxxxxxxxxxxxxxxxxxxxxxxxxxx xxxxxxxxxxxxxxxxxxxxxxxxxxxxxxxxxxxxxxxxxxxxxxxxxx xxxxxxxxxxxxxxxxxxxxxxxxxxxxxxxxxxxxxxxxxxxxxxxxxx xxxxxxxxxxxx.
Repeatedly, the cause of freedom seemed hopeless. We were overwhelmingly outnumbered. Yet, at the last moment, xxxxxxxxx xxxxxxxxxxxxxxxxxxxxxxxxxxxxxxxxxxxxxxxxxxxxxxxxxx xxxxxxxxxxxxxxxxxxxxxxx.
But it's going to take real effort to pass on to our children a free America. With xxxx help, we can do it one more time -- or as many times as we unite xxxxxxxxxxxxxxxxxxxxx.
Endnote:
1. Christian-persecuting or anti-free speech legislation defeated or delayed in the 110th Congress include the grassroots-persecuting Sec. 220 of the Lobbyist Reform Act in the Senate; the grassroots-persecuting Shea-Meehan amendment to the Lobbyist Reform Bill in the House; the Executive Branch Reform Act (Rep. Henry Waxman's speech control bill in the House); the Department of Peace Act, the Employment Non-Discrimination Act (ENDA); the Violent Radicalization and Homegrown Terrorist Act; and the federal hate crimes bill.