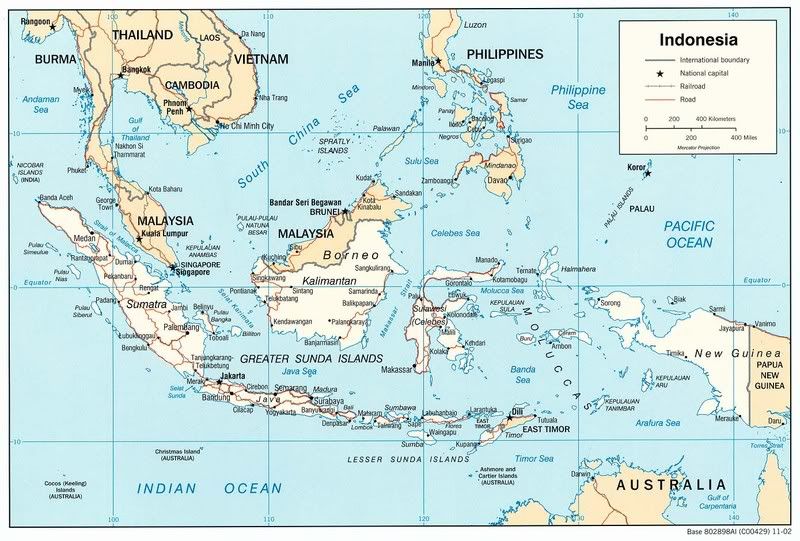 Are you prepared for this sort of thing? What do you need to be prepared for this?
Series of Earthquakes Hit Indonesia Killing at Least 3
Saturday, January 03, 2009
JAKARTA, Indonesia
— A series of powerful earthquakes at dawn killed at least three people in remote eastern Indonesia on Sunday, cutting power lines and badly damaging buildings.
A 7.6-magnitude quake struck at 4:43 a.m. local time about 85 miles from Manokwari, Papua, at a depth of 22 miles,the U.S. Geological Agency said. It was followed by a strong 7.5 aftershock.
Three bodies were found including a 10-year-old girl, hospital director Hengky Tewu told The Associated Press.
"Her head was crushed. We have our ambulances picking up two more," he said. Another 19 patients were treated for broken bones, cuts, crushed fingers and other injuries.
Papua police chief Maj. Gen. Bagus Ekodanto said he received reports that a hotel and rice warehouse had been "destroyed," but he did not know if anyone had died.
Attempts were under way to search for possible victims.
Several stories of the Mutiara Hotel in the main city Manokwari collapsed, said Ina, a nurse at a navy hospital who treated five people from the building for cuts and bruises. Like many Indonesians she goes by a single name.
Electricity went off and people fled their homes in the dark, fearing a tsunami, said Hasim Rumatiga, a local health official.
The Indonesian Meteorology and Seismology Agency issued a tsunami alert, but it was revoked within an hour after it was determined the epicenter was on land.
"We have not been able to get any information of casualties or damage, but since the epicenters were on land, they have a potential to cause significant damage," said Rahmat Priyono, a supervisor at the National Earthquake Center.
Papua, about 1,830 miles east of the capital Jakarta, is some of the nation's least developed territory. A low-level insurgency has simmered in the resource-rich region for years and it is off limits to foreign reporters.
Indonesia straddles a chain of fault lines and volcanoes known as the Pacific "Ring of Fire" and is prone to seismic activity. A huge quake off western Indonesia caused the 2004 Indian Ocean tsunami that killed about 230,000 people, more than half of them in Sumatra.